Innovating for a Safer World®
---
History
SteraMist Binary Ionization Technology (BIT) was invented under a defense grant in association with the Defense Advanced Research Projects Agency (DARPA) of the U.S. Department of Defense in response to the 2001 Anthrax attacks. DARPA is a U.S. military science R&D agency known as the "The Pentagon's Brain". Dr. Halden S. Shane, CEO and Founder of the company recognized the importance of this disruptive and innovative technology and secured the rights, Intellectual Property, and prototypes in 2013. Today, TOMI is a global company specializing in disinfection and decontamination utilizing its premier BIT platform through the manufacturing, licensing, servicing and selling of its SteraMist brand of products.
A Leader in Technology
SteraMist BIT is a cold plasma-based science, which converts TOMI's proprietary 7.8% hydrogen peroxide BIT solution into a non-corrosive high 6-log kill disinfectant and decontaminate, which leaves no residue and requires no wiping. H2O2 as a spray has been an essential in healthcare disinfection, but SteraMist elevates that to higher levels using pure science, physics and chemistry, destroying the chemical compound while achieving an immediate kill on contact disinfectant leaving the treated space with only oxygen and humidity.
Product Registration and Global IP
The Environmental Protection Agency (EPA) granted TOMI the first ever solution and technology combination registration in 2013. Since, TOMI has amended its EPA label to include a wide range of resistant microorganisms and mold spores (Reg. No. 90150- 2). Multiple other registrations are secured both domestically and internationally, including with the U.S. Food & Drug Administration as a disinfectant medical device (Reg. No. 3012117386), Health Canada Approved (DIN No. 02469448), OMRI Listed for organic use in both U.S. and Canada, Ministry of Health Israel, China, Taiwan, South Africa, among many others.
SteraMist BIT technology currently holds approximately sixty (60) trademarks (both logo and word) in the U.S., EU, China, Singapore, South America, South Korea, and many other countries. These marks are registered in seven (7) separate classes of specification of goods and services. TOMI recently published method and system utility patents extending protection of its technology until the year 2038. TOMI currently maintains approximately forty (40) patents (both design and utility) worldwide. Further, we are anticipating acceptance of nine (9) additional patents in the near future.
---
CERTIFICATES AND QUALIFICATIONS
SteraMist Advantage
Portable and Flexible
Low Hydrogen Peroxide content (<7.8%) as compared to competitors (>10% is considered hazardous)
Kills on contact, Zero "leave dry" time, safer operations for operator
Sterilization effectiveness lasts for 7 days (undisturbed / no introduction of new pathogens), industry leading performance
Effective, rapid action against Biodefense threats such as VX, Anthrax, and others
EPA Registered: Solution + Equipment Combination
For use as a Healthcare-Hospital Disinfectant and General Use, Multiple Use Disinfectant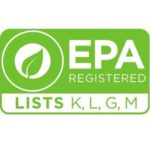 EPA Lists
List K

: EPA's Registered Antimicrobial Products Effective against Clostridium difficle Spores.

List L

: EPA's Registered Antimicrobial Products that Meet the CDC Criteria for Use Against the Ebola Virus.

List G

: EPA's Registered Antimicrobial Products Effective Against Norovirus.

List M

: EPA's Registered Antimicrobial Products with Label Claims for Avian (Bird) Flu Disinfectants.

List N

: Disinfectants for Use Against SARS-CoV-2
Disinfects against:
Staphylococcus aureus (Staphylococcus) (Staph) (ATTC #6538)
Pseudomonas aeruginosa (Pseudomonas) (ATTC #15442)
Methicillin Resistant Staphylococcus aureus (MSRA) (ATTC #33592)
Salmonella enterica (Salmonella) (ATTC #10708)
Influenza A virus (H1N1) (ATTC #VR-1469)
Clostridium difficile spores (C. diff) (ATTC #43598)
Norovirus (Feline Calicivirus) (FCV) (ATTC #VR-782)
For use in mold and mildew control and remediation.
Registered EPA Use Sites are Endless
---
How it works…
---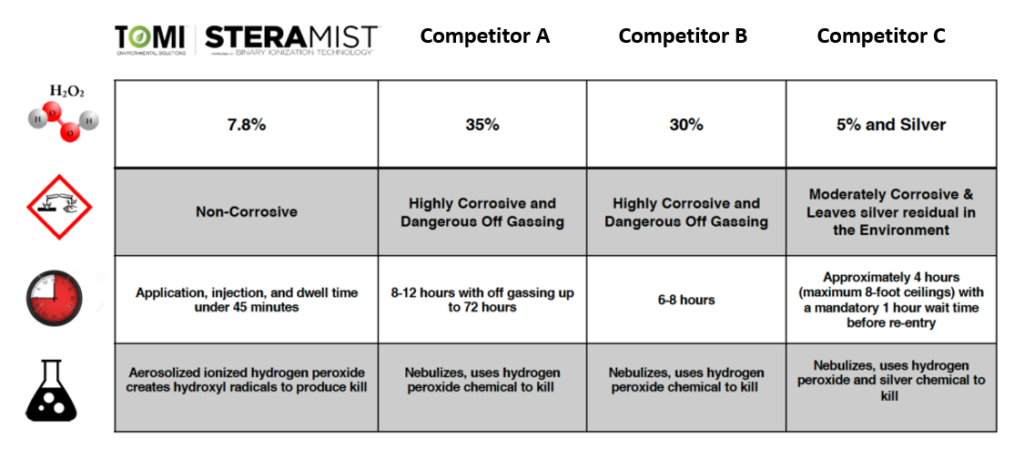 ---
---
---
SteraMist Team
Mr Daniel Lim
Mr Yaoshen Hu
Mr Charles Chik
Mr Edgar Koh
Ms Denise Koh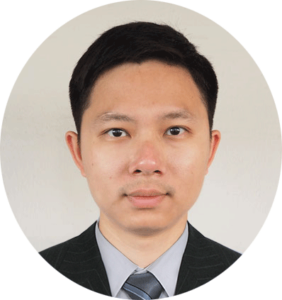 Mr Thet Zin Maung
---
Associates
---
Clientele
Singapore Government Agencies
Semi-conductor Company
Deep Cleaning Companies
---
For more information, please visit
---
Contact Us
We can also facilitate financing arrangement up to 3 years installments in collaboration with R3 Group for our clients to stretch their dollar without loss of getting the appropriate preventative measures in reducing the COVID-19 viral loads in their environment.
+65 6286 3622
info@vkmcs.com
For Singapore and China
Mr Nicholas Koh
nicholaskoh@vkmcs.com

For Taiwan and Japan
Mr Yaoshen Hu
yaoshenhu@vkmcs.com